Library and archive moves
The prospect of moving important documentation and a large number of books can be daunting.
Storage needs are complex and diverse, with antique artefacts often needing a specialised solution. Order needs to be kept ensuring disruption to referencing is kept to a minimum.
At Johnsons, we understand all of this and have taken it into consideration when developing and implementing our solutions. We understand that the security and the safe handling of library and archive materials is of particular priority. So we have implemented proven methodologies for moving libraries and archives, which can be adapted to meet the specific requirements of any project, large or small.
We know that every library is different and that we need to tailor our approach to accommodate the particular contents of your library. Our specialist Move Managers will spend time getting to know you and your objectives for the move. Then they will collaborate with you to devise a detailed move plan to cover every eventuality.
Our team will then get to work measuring and mapping your library spaces and shelving, indexing, tagging, and sequentially packing stock. To complete the move, we will provide the right packing materials to ensure the smooth transfer of every item in your library to its new location – safely and securely.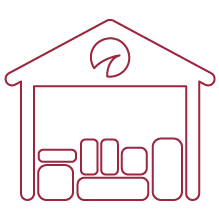 Are paperwork and archive boxes taking up too much space in your building? Nowadays, with the rising cost of office space, a store room just isn't a cost-effective option for most businesses. But due to legal requirements, businesses must keep a long-term record of their paperwork.
At Johnsons, we offer an economical storage alternative. With archive centres based across the UK, we can store your records so you can free up some office space. Our facilities have 24-hour security monitoring, plus full on-site computerised bar coding and tracking facilities, internal viewing area, photocopying services and 24-hour access.
The job was completed to our specification with excellent additional support provided by Johnsons' staff on site due to last minute change of scope.
HMRC
All team members worked to full capacity, they were polite, friendly and willing to assist with any task ask of them.
Cambridgeshire County Council
On this move nothing as it went as I expected from start to finish, very professional.
University of Salford
There is one age group that is often overlooked when it comes to mental health awareness. As we age and tackle the stresses that adulthood brings, we tend to habitually think of our younger...
read more
Whether you're relocating to a new building or simply redesigning your current workspace, it's important to factor in the needs of your staff and the desires of potential employees. A substantial...
read more
You can trust us to keep your business moving in the right direction.
So sit back, relax and get your move off to an incredible start.
For help on your next move get in touch